How does it work?
Every commission is approached with a thoughtful design perspective. How is your garment to be worn? What do you find is beautiful, feels uncomfortable, or needs to function better? Do you like traditional methods, or would you prefer creative thinking? I provide worthwhile solutions to a wide variety of considerations.
We begin with a meeting, usually face-to-face but Skype/Face Time or phone meetings work too. In this meeting we discuss the specifics of your project, preferred materials, your timelines, any additional considerations, and budget. After this meeting I will create a few designs for you to evaluate. Once a design is selected, I will send you a proposal that summarises our discussion, creates a timeline, and has a price for the commission.
I source appropriate fabrics for your commission from both domestic and international sources, to create the best value for you. Each item is selected with your input for the specific quality and price to meet your criteria.
For most formalwear, there are normally 2-3 fittings. Religious vestments may include a fitting if you prefer, although this is not always needed. You can expect the finished garments about two to three weeks after the last fitting, or by the timeline in the proposal.
Formalwear should be collected from the studio, while I can ship many vestments. Drapery commissions can be installed with prior arrangement.
What does it cost?
This is a little like asking how much does a car cost… and impossible to answer correctly without having a detailed understanding of what you are seeking. There are many variables that will affect the cost, including fabric quality, surface design, urgency of need, and complexity of labour. However, here is a very general guide, including fabric and labour:
Wedding gowns, silk fabrics: $1500 and up for a slim gown, $2500 and up for a ballgown
Religious vestment sets: $600 and up for Catholic set, $950 and up for Orthodox set
Window treatments: $650 and up per large window, floor to ceiling length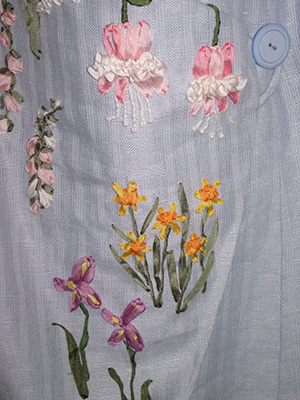 Gosh, that sounds like a lot. Why should a customer pay that much?
I offer excellent customer service at a fair price. My many years of experience make me a highly-skilled efficient worker, as well as an excellent problem solver. Your commission will be sewn with high quality findings and techniques – wide seams, deep hems, fine finishes. I am particularly skilled in subtleties of proportion and fit, making your garment more comfortable, longer-lasting, and a joy to wear.
Keep in mind that the textile items purchased in an ordinary shop are probably made in a sweatshop, even if they were made in this country. By purchasing from a local small business, you are making an ethical decision to support a fair working wage in exchange for excellent quality and service. As Benjamin Franklin said, the bitterness of poor quality remains long after the sweetness of low price is forgotten. High quality is worth the investment, and has been for hundreds of years!
Finally, your commission is as unique as you are. No one else will have the same special clothing that I make for you. Every design decision is made to create a beautiful garment that is created to fit your body and your preferences. After all, it's worth a little more to get exactly what you want.
Anything else?
Learning how to make new things is fun! My clients know they can trust me with their unusual projects. I have created custom-shaped mattresses for large boats, drapery and soft furnishings for homes and industrial spaces, and Santa costumes for Macy's that were worn in the Thanksgiving Day Parade by star attraction Santa Pete. Contact me with your idea and let's work together to make it a reality.
Thinker + Maker = Artist